A Bit of History
Franco, a baker by trade, learned the business the old fashioned way – full immersion – from the ground up.  By his mid twenties he had already worked in several prestigious restaurants in Paris, Venice and Milan.  The early 80's brought him to London, and it is here, whilst working at a well-known Italian restaurant on Chelsea's fashionable King's Road, that he met his future wife and business partner.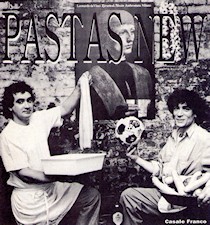 The combination of Italian passion and British Flair led to the opening of their first venture 'Pizzeria Franco' in Brixton, a vibrant and multi-cultural area of London. The place became so popular that it drew long queues at lunchtimes. Regularly jam packed, customers were only too happy to squeeze themselves onto the few communal tables in order to sample one of Franco's by now celebrated pizzas before they sold out.  
Fast outgrowing their small premises the couple scoured London for something bigger, finally deciding on a two floored disused bakery warehouse in London's fashionable Islington.  
Hidden down an alleyway and almost derelict, everyone thought they were crazy, but the pair had fallen in love with the original features and old-fashioned charm of the building and were determined to restore it back to its former beauty.  With the help of devoted friend (and pizza lover) Anand Zenz, the building was lovingly brought back to life and in 1990 'Casale Franco' opened its doors to immediate critical acclaim.
For the next 20 years or so Casale Franco became one of Islington's most renowned and revered restaurants, serving not only prime ministers and politicians, Hollywood actors and soap stars, footballers and sports personalities but also, and more importantly, loyal and appreciative locals, many of whom would become life-long friends.
It had always been the couple's intention to move out to their beloved Lanzarote one day, and when the opportunity to buy a dilapidated, empty seafront restaurant arose, the pair quickly decided to up sticks and follow their dream. 
---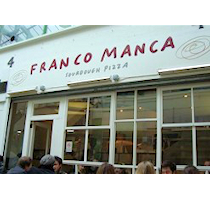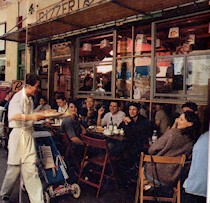 For all of you who keep asking: yes, Franco is the Franco in Franco Manca (which literally translates as "Franco is missing"). Whilst we are in no way associated with this business, the original Brixton branch is the site of our former Pizzeria Franco, and owner and long time friend Giuseppe Mascoli dedicated his venture to Franco in recognition of his pioneering work and commitment to keeping the artisan flame alive.