We change our menu seasonally and as the whim takes us in order to keep things interesting, but below will give you an idea of what we do.
Our Artisan Pizza

This is simplicity at its best – a quality, handcrafted product made with passion using just 4 basic ingredients: flour, water, salt, yeast. No additives, no chemicals, no artificial ingredients. This is healthy fast food.
Our Dough
It is the little things that determine the difference between a great pizza and a good pizza. According to Franco, it's all about the dough and the expertise of the baker in releasing the natural flavours of the wheat through proper fermentation. You can top an ordinary base with the finest ingredients and the customer will undoubtedly enjoy it but you will never get the reaction "Wow! That was simply delicious, I wish I could eat another one".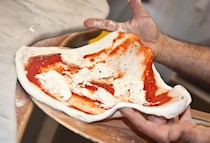 Time is the key ingredient in making great pizza. At Casale Franco the dough is developed using a mother yeast and a long, slow fermentation process of at least 36 hours. This process is very rarely used nowdays as so much skill and time is required. Yet it is this slow method that gives the crust its simultaneously chewy and tender texture and deep complex flavour, and is what makes the bases so much healthier and more easily digestible.
The artisan is not concerned with innovative modern techniques, or trying to turn the humble pizza into something luxurious or trendy. He is about revisiting pizza's roots, reinventing a simple handmade product using traditional methods to create a timeless, affordable product, to be enjoyed by all.
"Even if I never told you how the dough is prepared – you would nevertheless know that what you just ate was something different – perhaps, the best pizza you´ve ever had…"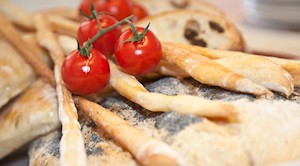 Our Artisan Breads
Artisan baking is a true art form and at Casale Franco we are proud of our Artisan wood-fired breads. We mainly bake sourdough, a flavoursome densely textured bread, which we like that way – the crust has a chewy pull to it, whilst the depth of flavour is first-class. However, several other breads are available for you to purchase or simply enjoy with your meal. Having been fermented the slow way, our breads will easily keep fresh for up to 4 days.
Homemade Fresh Pasta
We love pasta. It's the heart and soul of Italian cooking. Italians are nothing if not passionate about their food, especially their pasta. Ask any Nonna or Chef in Italy on how to make fresh pasta and you will start not only a heated debate but also get a different answer depending on which region of Italy they are from.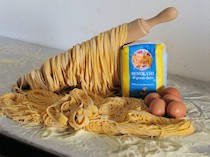 In Northern Italy they predominately use just eggs and flour, whilst in the South they use only water and flour. Whilst some are happy to add a little salt and olive oil, for others this would be considered pure sacrilege!
At Casale Franco we make our fresh pasta every morning using just two ingredients: fresh eggs and flour. However, rather than commercial eggs we only use free-range, locally produced farm eggs. The yolks are richer and darker in colour resulting in a golden, tastier pasta. As for the flour, we use a mix of imported Italian 00 flour, which is very delicate, finely milled and high in protein, together with a touch of coarser durum semolina flour to give the pasta a little more bite.  As there are only two ingredients in fresh pasta, why not make them the best?
Fresh homemade pasta is a true delicacy, and coupled with a simple freshly cooked sauce, one that will give your tastebuds a treat. At Casale Franco our pasta menu offers you all the traditional favourites as well as something different for the more adventurous to try.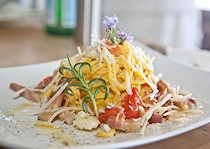 Not in the mood for pasta or pizza?  No problem!  Our menu offers an assortment of steaks, pork and chicken dishes as well as vegetarian gratins and a variety of salads. We also have daily fish specials and specialties such as wild boar, rabbit or venison for you to enjoy.
Italian Tapas
Cicheti, Tapas, Nibbles, Mezze – whatever you want to call them, small plates are a great way to taste new foods. Tapas are so well-suited to today's style of casual eating, that they have now become a popular addition to many restaurant menus.  At Casale Franco we have created a new Italian Tapas Lunch Menu that showcases the wealth of choice, colour and flavour that Italian food has to offer. Our Tapas Menu offers you the perfect excuse to try out something new – true foodie's delight!
Homemade Cakes, Desserts & Biscotti
No matter how much Pasta or Pizza you eat, there is always room for a little sweet indulgence!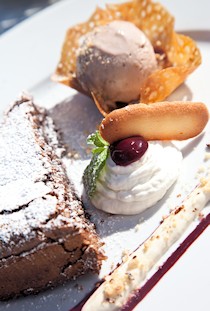 In Italy "il dolce" covers everything from the small pastries (pasticcini/biscotti) to elaborate cakes (pasticceria), as well as ice creams and mousses (gelati). Whether you have a sweet tooth or not, most would agree that a little treat at the end of your meal is the icing on the cake, turning a great meal into a truly memorable one.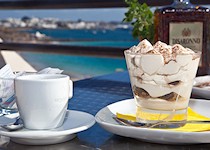 At Casale Franco our dedicated pastry chef bakes and prepares all our cakes, desserts and biscuits daily in our on-site kitchen. So whether it is a classic Tiramisu or Torta Caprese that takes your fancy, or simply a few homemade biscuits to enjoy with your coffee we are proud to be able to offer you something decadent and truly irresistible.
For birthdays or special celebrations we can custom make that extra special cake, just for you, to order.
Due to popular demand our delicious biscotti are now available for you to purchase and take away.
To see our food "close up", go and visit our Photo Gallery.